Online Safety
The latest issue of Digital Parenting can be viewed here.
This issue contains information about
Managing children's sleep and setting digital boundaries
How children can enjoy a safer start on social media
Better family communication around tech
Expert advice on gaming addiction, self-harm and virtual reality
Creating a better family digital-life balance... and lots more
We regularly give information and advice to Parents about Online Safety matters, via newsletters, Parentmail bulletins and drop in sessions. Please click here to download a copy of a Presentation that was discussed at one of our Parents Meetings.
For more advice and helpful links, please see our Parents' Page.
Does your child use any of these?
a mobile phone
the Internet
a social networking site such as Facebook, Instagram, Snapchat, YouTube or Twitter
MSN, Skype, or other instant messengers
If the answer is yes, then your child is potentially at risk.
As parents and carers, our natural desire is to keep our children safe. From learning to cross the road, ride a bike or swim, parents have to teach, guide and support their children - the online world is no different. The best ways to defend against online risks are openness, awareness and education. Talk to your children about their online lives, share their experiences and learn from them, help them to use technology positively and responsibly and give them boundaries, guidance and support.
To help adults keep up with the fast pace of the ever changing world of technology, Warwickshire ICT Development Service are offering guidance, giving e-Safety advice for parents and carers.
This handy guide covers a range of issues, giving information and guidance on:
Computer and Online Security
Useful tips on how your child can keep safe
Social Networking
Abbreviations and Acronyms that children use
Online Gaming
Grooming
Cyberbullying
Useful links for further guidance
WEMSAFE Rules
In school we use these WEMSAFE rules to remind children how to be safe online.
| | |
| --- | --- |
| | We should always send messages that are friendly |
| | Ensure you treat others online how you would like to be treated. |
| | Make sure you never meet up with somebody you have never met before in real life. |
| | Shut the laptop lid or turn off the monitor if you see something you don't like online, then tell an adult immediately. |
| | Avatars are better to use online than personal photographs of you. |
| | Friend requests should only be accepted from people you know. |
| | Everyone's personal information is private. Don't share yours online. |
The internet is a wonderful place to explore, but we need to follow some basic rules in order to remain safe online. We discovered that many people have differing opinions on how to stay safe online. This can be a little confusing at times. We decided to create our own set of rules, to be used by all year groups, to ensure that key messages are used consistently across the school.
Year 5 and 6 pupils met with Mrs Webb to discuss ways to keep safe. They discussed the similarities between staying safe in the real world and when visiting websites online. They identified the rules they felt were most important to follow, then worked in small groups to ensure these were worded so that children of all ages could understand them.
These rules were organised in such a way to create WEMSAFE.
A competition was launched to design a WEMSAFE poster. Kushi Kaur produced the winning poster, which is displayed in every classroom. We even had mouse mats created from her WEMSAFE design.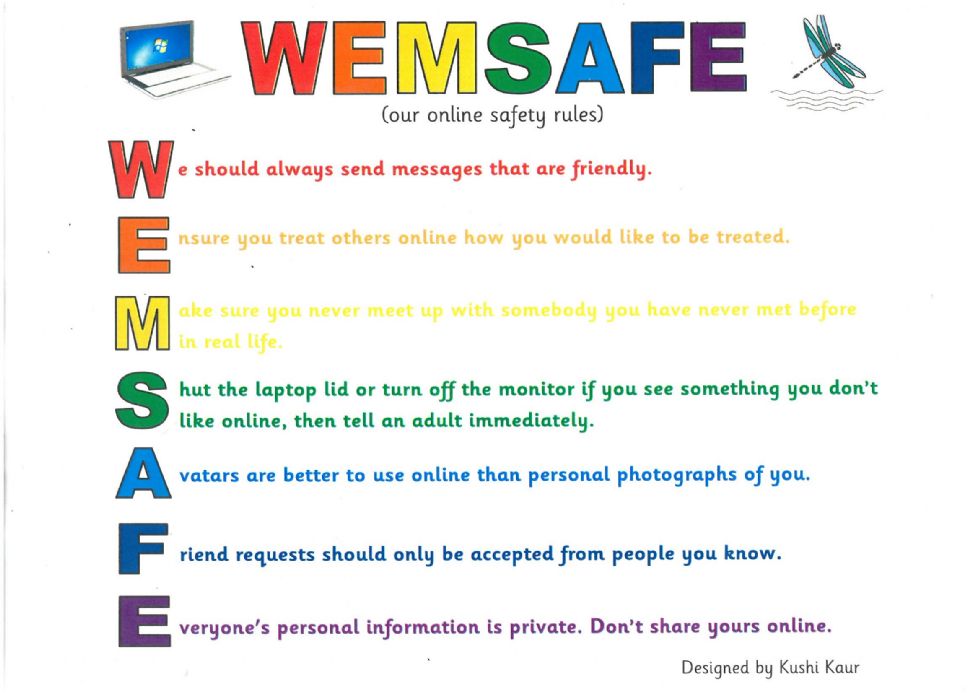 We also follow the guidance of the Click Clever, Click Safe campaign.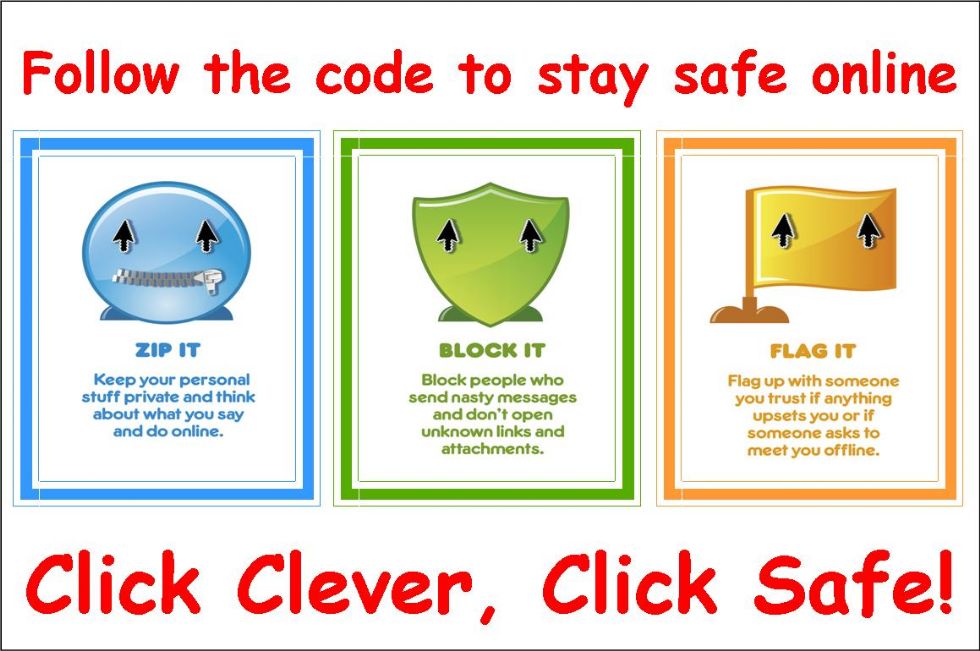 Useful Links
https://www.thinkuknow.co.uk/parents/
https://www.internetmatters.org
http://www.childnet-int.org/kia/parents/