The Big Cut!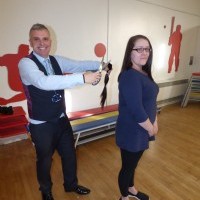 Tammy Crockwell and Lucy Riley had 16 inches of their hair cut...
Tammy Crockwell and Lucy Riley bravely let Mr Pearson and Miss Bayliss loose with a pair of scissors to cut over 16 inches of hair from these two kind ladies. The hair will be used by the Little Princess Trust to make some real wigs for children suffering from cancer.
Monies raised through donations will be split between both The Little Princess Trust and Pulmonary Hypertension Association in memory of Mrs Hall.
So far funds raise total over £600. Please help support these worthwhile causes by making a donation.
Tammy's fundraising link is below.
www.gofundme.com/tammyshaircut
You can view some photos of the assembly here (click here)