New News Story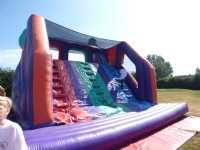 It's a Wembrook knockout!
A fantastic day which all chilrden and teachers enjoyed, full of fun and laughter for everyone.
On Wednesday the 11th of July the whole school enjoyed a fun filled day of activities. There were four dry inflatable activities which included obstacles, races and puzzles, and there were four wet inflatable activities which included a huge water slide, a ball pit filled with foam and a bucket filling race. All of the children got involved and had a wonderful time. To top it off, they got to laugh at their teachers doing the same challenges and getting soaked!