Macmillian Coffee Afternoon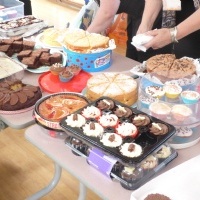 Wembrook had a great and successful Macmillan coffee afternoon on friday.
Wembrook had a busy afternoon on friday raising money for Macmillan's Cancer Support by hosting a coffee afternoon, a huge thankyou to all of the people that contribuited to the afternoon by baking such wonderful cakes and biscuits.
We managed to raise an outstanding £570!
Thankyou for everyone who took part in raising the money and for everyone that attended which made the afternoon a success.
More photos of the afternoon can be seen here