Harvest 2017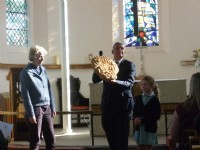 Both KS1 and KS2 visited Holy Trinity Church to celebrate The Harvest Festival 2017
KS1 and KS2 both celebrated the Harvest Festival at the Holy Trinity Church this morning. Each year group performed something related to Harvest. We had songs,poems, readings and even a Harvest Rap!
We would like to say a huge thank you to all the parents who kindly donated and to Syd and Reverend Alison for allowing us to come and celebrate Harvest at their church.
You can view some pictures of our wonderful morning by clicking here.