Hartshill Hayes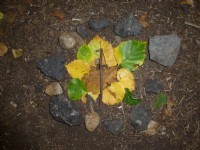 Last Sunday we held a family fun day at Hartshill Hayes. Children and their family all had a wonderful day!
After looking at a range of pictures based on the work of Andy Goldsworthy, the children (and parents) had great fun creating their own works of art. They used stones, different types of leaves and twigs to make their own land art. Didn't they do well?
To view photos of the day please click here.