Apply Online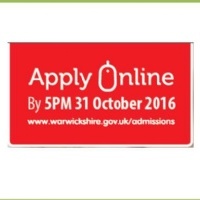 Applying for a Secondary School Place 2017
We understand that parents of Year 6 children will be thinking about the Secondary School which they would like their child to go to. The closing date for applying on-time for a secondary school place is the 31st October 2016. Failure to apply on-time will significantly reduce the chances of your child being offered a place at your prefferred school.
We are suggesting that you begin to apply in the first week of October as this will give you enough time and preperation to make a decision.
We have attached a booklet containing all the information about applying for a secondary school.
http://www.warwickshire.gov.uk/startingsecondaryschool