5HT DT project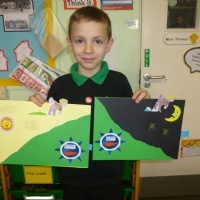 Find out what 5HT have been working on in their recent design and technology project.
This objective of this design and technology project was to plan and make a storybook using levers. The books were to be suitable for a child in Key Stage One and were all based on well- known nursery rhymes.
Children were required to plan, make and use four different mechanisms in their storybook. The design criteria required the completed storybooks to be attractive, suitable for young children and well-made with a high quality finish.
For photos of the project click here