5CW's Changes assembly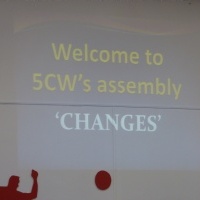 5CW performed their class assembly on their topic last year which was changes. Their assembly tried to cover off some of the things that they have learnt.
Art
In art we studied the work of famous artists to see how art had changed over the years. We created a class gallery with our own versions of their work.
Science
In science we were learning about reversible and irreversible changes and carried out a number of experiments to test changes.
History
In history we looked at how Nuneaton had changed over the years. We visited a number of locations in Nuneaton such as Avenue road, Holy Trinity Church and the Albion Buildings and tried to recreate old photos that we had.
Computing
In computing we looked at how computers have changed over the years. We also looked at how to behave and stay safe online and created some class top tips to help us stay safe.
Music
We looked at Rock music this term and learnt to sing 'Don't Stop Believing' by Journey. We then changed the words to create our own Wembrook version of the song.
To view images from the assembly click here